Who we are
Established in 1998,OK2-Print is a commercial printer based in London, SW19. OK2-Print offers print solutions to local councils and authorities throughout London & the South East; we also deliver print across the whole of the UK and export print to Europe and theMiddle East. Other commercial customers include a large broadcasting corporation, a leading hearing aid company and many local businesses.OK2-Print also works with clients from the Golf & Leisure industries.We supply work for marketing and design agency,HeyMoscow, targeting youth and supporting social projects. This work is produced with social
responsibility in mind and is printed on our range of recycled paper. The company has work submitted by design agencies, althoughOK2Print also works directly with clients and has its own design facility.
What we do
We produce a wide range of print ranging from magazines, catalogues and brochures to direct mail pieces and flyers.
Our B2 printer provides short-to-medium run sheet-fed commercial work on twoHeidelberg B2 and B3 presses. OK2-Print has installed a Screen thermal Platerite 4100 platesetter and has made the move to processless technology with Fuji's BrilliaHD PRO-T thermal processless plates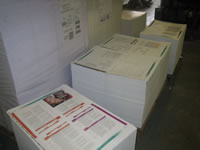 We produce design, literature and
marketing ideas for:
Golf Clubs and Leisure Facilities
Restaurants & Bars
Estate Agents
Security & CCTV Services
Web based sales companies
Publishers
Conference & shows planners
Manufacturers
The financial sector
LocalGovernment & Councils
Theatres
Shops and retail outlets
Marketing & Design Companies
Charities
Practically any organisation needing ink on paper & marketing ideas
Gone green...

In June 2007 OK2-print went green with its new Repro "Trueflow" software system and "Screen Platerite" process less plate setter.Now totally chemical free the company has moved on from the original film and plate processor.We avoid harmful chemicals. This is in addition to the fact that we use vegetable oil based inks and a wide range of quality recycled material ranging from sustainable forest to recycled paper and board. We are very keen to advise clients on how they can be a little more environmentally friendly with their print equirements without it costing them a penny extra!